Destination Weddings in Baveno
Baveno is a jewel of a village situated on the picturesque western shore of magnificent Lake Maggiore, with an unobstructed view of the picture-postcard Borromeo Islands and the snow-capped Swiss Alps in the distance. The beauty, the charm and the romance of Baveno have been an open secret for hundreds of years. Such notables as Queen Victoria, Winston Churchill, composer Arturo Toscanini, playwright George Bernard Shaw and noelist Ernest Hemmingway have all savored the romantic seclusion of Baveno.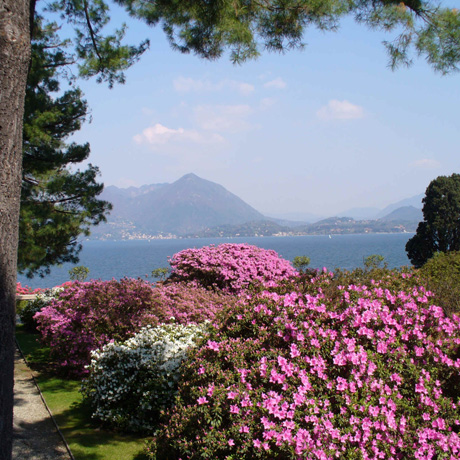 If you are looking for a romantic and storybook setting for your wedding, you could not choose a more charming setting than the 10th century village of Baveno, with its lush gardens, it year-round mild climate, its unsurpassed views of the sparkling lake reflecting snow-capped peaks, and its romantic cobblestone streets, which seem to have been created just for lovers who wish to lose themselves in the beauty of the moment.
Religious weddings in Baveno require that you first have a civil ceremony, but don't be misled. A civil ceremony in Baveno is nothing like a civil ceremony in, say, the United States. Here you and your love will climb the ancient marble stairs of a 17th century palace-like building and enter the ornate and awe-inspiring wedding hall where the Mayor of Baveno himself will undoubtedly perform your wedding ceremony. You will be allowed to offer your own vows and read poetry or other meaningful writings.
Unlike many European countries, Italy has no residency requirements and no waiting period for couples who wish to be wed in Baveno. There is a bit of paperwork which must be supplied, but your experienced and friendly wedding planner can help you obtain everything you need and make certain all paperwork is properly filed.
Your wedding coordinator can also arrange for your religious or symbolic wedding ceremony immediately following your civil wedding. If you have always dreamed of an elaborate wedding in a frescoed and unbelievably beautiful 11th century stone church, such a ceremony may be arranged. Your wedding facilitator can also arrange for a Protestant or Jewish wedding at any number of ancient or modern Villas, ancient castles, or modern 5-star hotels.
Italians love weddings and they love parties even more. Your wedding reception will be an almost magical affair, filled with gourmet Italian food, fine Italian wines, and the joyous sounds of music, laughter, song and dance until the wee hours of the morning.
You want your wedding and your reception to be something so special that they will be remembered and cherished for a lifetime…and there is nowhere in the world more charming, more romantic and more memorable than the impossibly beautiful village of Baveno, nestled on the idyllic shores of Lake Maggiore.