Dress to Impress at a Summer Wedding in Italy
Dressing for a summer wedding in Italy can be tricky. It's a fine balancing act between looking stylish and keeping cool. While traditional Italian clothing style may differ from other countries, there are still some key elements that should be taken into consideration when deciding what to wear. When dressing for a summer wedding in Italy, it's important to understand the traditional Italian dress code and how to incorporate it into your look. From classic cuts and colours to unique accessories and fabrics, this guide will help you dress for success at a summer wedding in Italy.
What Should Men Wear for a Summer Wedding In Italy?
Weddings in Italy are known for their traditional customs and etiquette, which means that men should dress appropriately. In this article, we'll explore the best menswear options for a summer wedding in Italy, from traditional Italian clothing to modern styles. Lightweight suits are always a good place to start. Typically linen suits in lighter colours such as: beige, light blue, light pink all work incredibly well. Likewise, a more casual look of chinos with a smart shirt and boat shoes, works incredibly well for a summer wedding in Italy. For more ideas check out these summer wedding suits.
What Women Should Wear for a Summer Wedding in Italy?
Destination weddings in Italy can be hot. So choosing the right dress for a destination wedding in Italy is key. Long flowing dresses are always a good place to start as they keep you relatively cool, in the hot climate. Maxi dresses are perfect every time for the Italian climate. They look beautiful, you'll not over heat and if you stick to light colours, (not white!!), they'll look amazing on all the photographs. Shoe wise, you can't go wrong with an open toed wedge or a stylish pair of sandals. They pair very well with long flowing dresses, they look stylish and your feet won't over heat! For more influence check out these summer wedding outfits.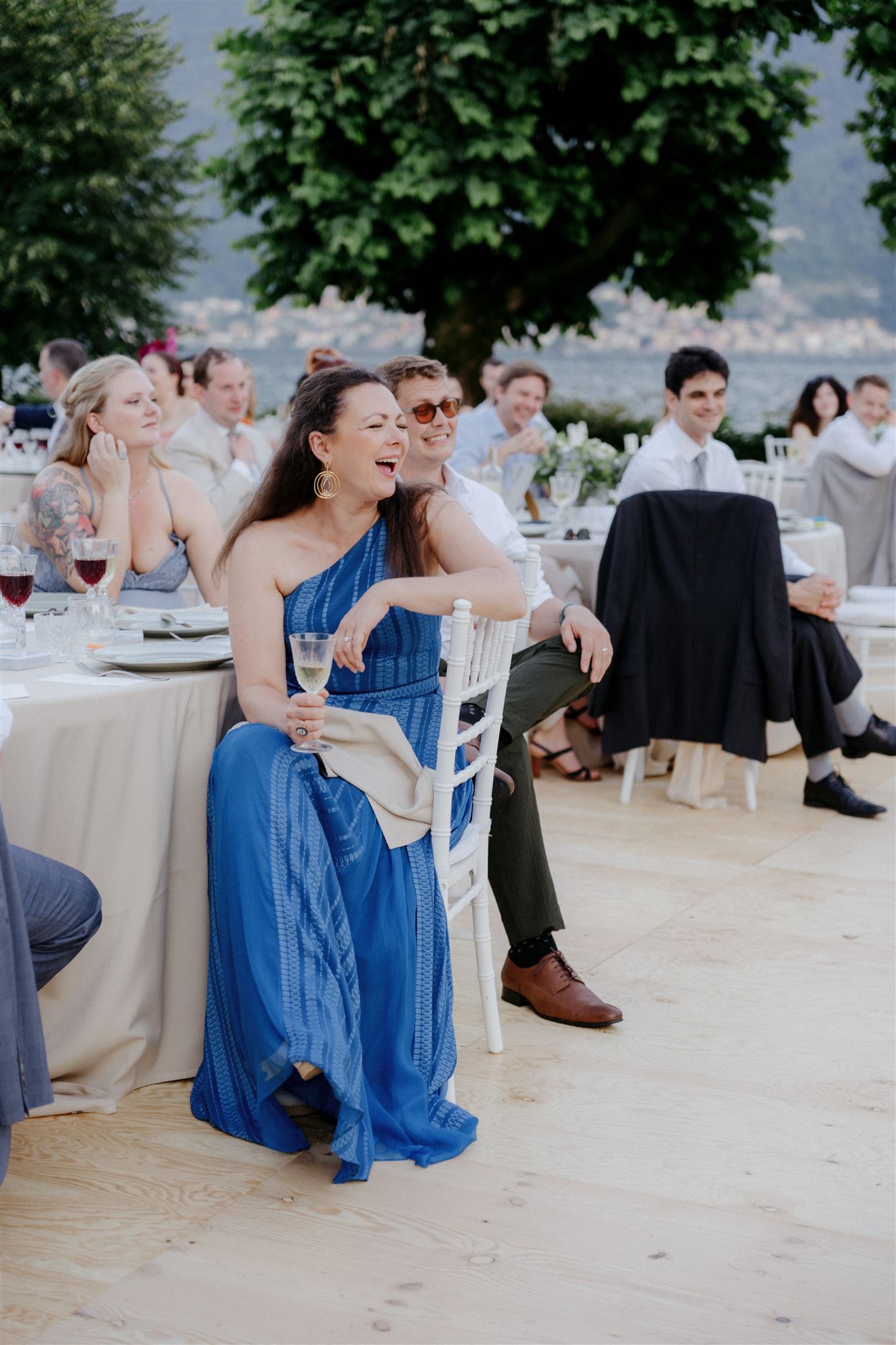 Must-Have Accessories For An Italian Summer Wedding
Summer weddings in Italy are a beautiful affair, with everyone dressed in their best outfits and accessories. Women in particular have to be extra careful when choosing accessories. You can choose between delicate headpieces like tiaras and veils, statement jewellery pieces like necklaces and earrings, as well as stylish shoes like sandals or heels. Probably the main accessory you'll definitely need at a summer wedding in Italy, is a fan. A beautiful fan can make you look elegant and keep you cool at the same time! Why wouldn't you want one? Then the final accessory everyone needs is sunglasses. Not only do they compliment any outfit but they protect your eyes from the sun.
For a closer look into what our couples have been wearing for summer weddings in Italy, check out our Instagram page.