WEDDING LOCATIONS IN TUSCANY
Destination Weddings in Tuscany
For many, Tuscany embodies the very best of Italy. Your wedding in Tuscany is a chance to immerse yourselves in classic pastoral landscapes, discovering both beautifully preserved medieval architecture and Renaissance art at its most breathtaking. Tuscany was the center of this incredibly creative period in the sixteenth century.
The region's coastal capital, Florence, is resplendent with numerous palaces, museums and galleries. Not only are its churches second-to-none, Florence also boasts the world's fourth-largest cathedral, a stunning pink and white marbled duomo.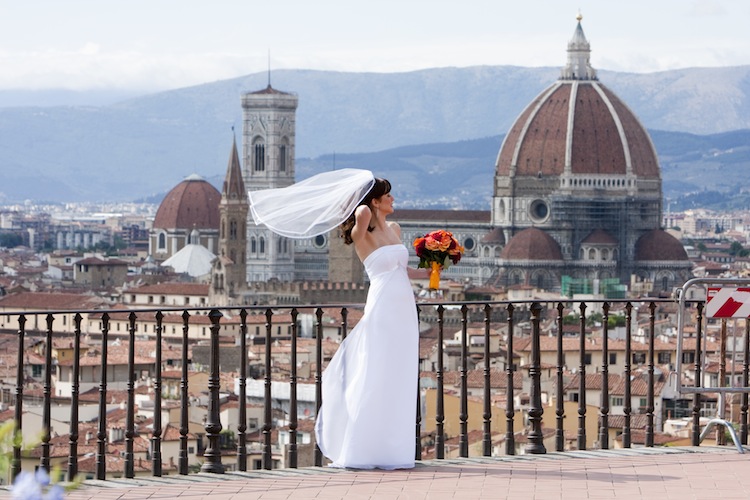 The great medieval city of Siena is another of Tuscany's gems. Siena, like Florence, is renowned for its superb art and architecture and awe-inspiring cathedral. The city's central square is widely acknowledged to be the most beautiful in Italy.
Tuscany has many smaller cities and towns, each with its own special allure. Pisa is world-famous for its leaning tower, and has a lot more to offer besides. Refined Lucca is loved for its walled old town, whilst Arezzo is famed for its superb fresco cycle, painted by Piero della Francesca.
Tuscany's timeless landscape of gentle hills, vineyards, olive groves and cypress tress is dotted with ancient farmhouses and villas. Many atmospheric medieval hill towns lie west and south of Siena, with architecture that is as impressive today as it was hundreds of years before.
Tuscany's coastline tends to take second place to its interior landscapes, yet it is well worth a visit. Several pretty islands lie just off the coast, whilst the beach resorts north of Pisa have the Italian Alps as a backdrop.
Wherever in Tuscany you choose for your wedding, you will surely fall under the spell of this beautiful region. It is an excellent choice for a romantic and unforgettable wedding day.